Don't waste time refilling from jerry cans.
Its not good for your back, and its costing you money in downtime!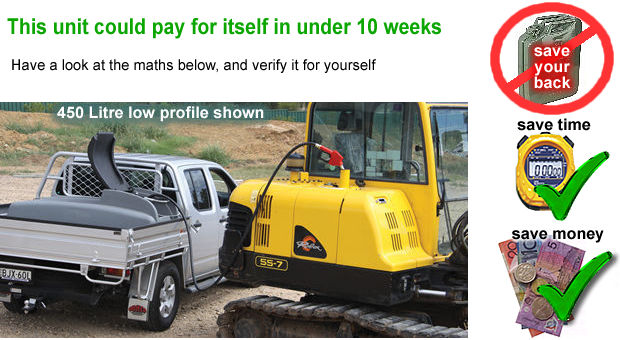 Any time your excavator is on site, but not working, is money lost. If you are an owner/operator, then time wasted fetching fuel, and re-fueling is also lost profit. Not to mention the wear & tear on your back! Assuming a charge-out rate of $200 / hr if your equipment is idle for 20mins every day for re-fueling; that is costing you
1.7hrs/week x 50 weeks x $200 = $17000 a year!
Its likely that if you are re-fueling by hand, its costing you more than 20 minutes a day. But lets say that pumping from our 300L diesel transfer tank, saved you just 10 minutes every day, it would pay for itself in just 7 weeks!

Cheap Freight to most areas
Avoid accumulated dirt in your tank or fuel lines from old jerry cans.