Our diesel fuel
transport tanks are roto-moulded in Australia
Home Page
Contact Us
Diesel Tank Features
Diesel Tank Prices
Ordering
On-site Refuelling tanks
Fuel Transfer Tanks
Diesel Storage Tanks
DEF AdBlue tanks
Diesel Fuel Pumps
Diesel Tanks
On Special
Information Brochure
Refueling Trailers
Rules for Storing Diesel
Transporting Diesel
What is AdBlue DEF?
Diesel Fuel Rebate
About Us
Privacy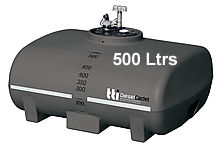 Storing diesel on site, or on farm
by John Carmichael
(Please read the disclaimer at the end)
What are the rules for storing diesel in a big tank?
Can I use a poly tank to store diesel on my farm?



The Ricegrowers' Association of Australia has on its website the Guidelines for Storing Fuel on Farms. The guide is published by the Australian Institute of Petroleum. This guideline includes a checklist that fuel distributors use, to decide if they will deliver to your above ground bulk diesel storage unit. (Its possible this link could change, so search Google for "Guidelines for Safe Above-Ground Fuel Storage")

The fuel distributor will want to ensure that the tank meets the AS1692 Standard (Tanks for Flammable & Combustible Liquids), there is no rust, there is good drive-in access, the site of the tank is clear, and not near any hazards, and that the ladder to get to the filling point meets the OH&S requirements in your state, and the requirements of AS1657 (ladders & handrails). More detail can be found in their fuel storage guidelines. WorkSafe Australia has a guide called National Code of Practice for Storage and handling of Workplace Dangerous Goods here. Please also see this document about the alignment of the ADGC and the GHS codes into AS1940

For diesel, the maximum tank size they allow is 10000 litres (see AS1940 below).

You should contact the EPA (Environment Protection Authority) in your State for other requirements in relation to bunding, spills, and location near waterways. You should also refer to AS1940 - The storage and handling of flammable and combustible liquids.

As of the 1 May 2018 poly tanks qualify under the Standard AS1940. One of the major safety problems with diesel storage tanks is rust, and our poly tanks never rust! We have a range of transportable steel bunded fuel storage tanks available. Most mining sites require a bunded tank.

If you have trouble with your fuel distributor not wanting to fill a poly tank, please refer them to this Agsafe article. In our experience if one dealer/distributor won't, then try their competitor, they probably will.

However, mounting our tanks on a trailer or truck, will allow you to cart diesel to your site. We have purpose-built diesel trailers, or our poly tanks can be mounted to a gal skid for pushing onto a tipper or flat-bed truck. Have a look at the rules for transporting Diesel .

AS 1940 - 2017 Storage and Handling of flammable and Combustible liquids
Please note that the above standard only applies to class 3 flammable liquids as defined in ADG Code Clause 1.4.9. Diesel is a C1 liquid, except when its being transported. Comments below refer only to diesel (not other flammable liquids). If diesel is stored with other flammables the rules change. The differences between the 2004 and 2017 codes are explained here
AS1940 specifies a maximum size of 10000L for diesel storage, provided its outdoors, on open land (at least 2ha) and not near anything combustible. It's a good idea to have an appropriate fire extinguisher nearby when storing any flammable liquid.
In enclosed areas like sheds and warehouses, the maximum size is 500L, but this changes depending on the surrounding items like walls and boundaries, and the type of establishment, eg school, laboratory, commercial building..
A warehouse can store diesel up to 2000L depending on the available floor space. Please refer to the standard for more detail.
A bund is a containment area or wall, that can hold the diesel, in the event of a spillage or tank failure. It needs to be able to retain its usefulness, even in the event of fire eg brick wall. The bund must be made of non-combustible material. AS1940-2017 clause 5.8.3 gives a detailed description of the rules relating to the construction of a bund. Clause 5.8.1 says a bund is not required if your tank fits within the definition of minor storage. EPA NSW has guidelines on bunding and storage here
The advice on this page is offered as a guide only. You should seek a suitably qualified consultant if you need legally reliable advice.