Tough and reliable,


ready for Australian
conditions. Quality
Italian pump. Our diesel
transfer tanks meet all
legal & safety requirements
Home Page
Contact Us
Diesel Tank Features
Diesel Tank Prices
Ordering
On-site Refuelling tanks
Fuel Transfer Tanks
Diesel Storage Tanks
DEF AdBlue tanks
Diesel Fuel Pumps
Diesel Tanks
On Special
Information Brochure
Refueling Trailers
Rules for Storing Diesel
Transporting Diesel
What is AdBlue DEF?
Diesel Fuel Rebate
About Us
Privacy
Freight to most areas approx $80 click

to order
Italian pump delivers 40 Ltr/min at the nozzle. Save downtime!

Unless indicated, all units have a 6 metre hose, lockable lid, an auto shut-off nozzle, and
a 12volt Italian pump with 2 years warranty These units are usually shipped from the TTi factory in Victoria. We can ship from the NSW Rapid Spray factory, but the price is different
click the

button to get one.
Option: Italian 80 Litre/min pump, Gal metal skid
15 year manufacturer's pro-rata warranty on these tanks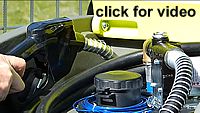 On a mobile? Tap here to call us
John Carmichael
Poly Diesel Tanks from Poly Tank Supplies
Sydney: 40 Refinery Drive Pyrmont NSW 2009
Registered Office: 53a High St, Taree NSW 2430
ABN 48 750611700


*DieselFlo Pump has 1 year warranty
and 4 metre hose


Ph: 02 6551 0966